---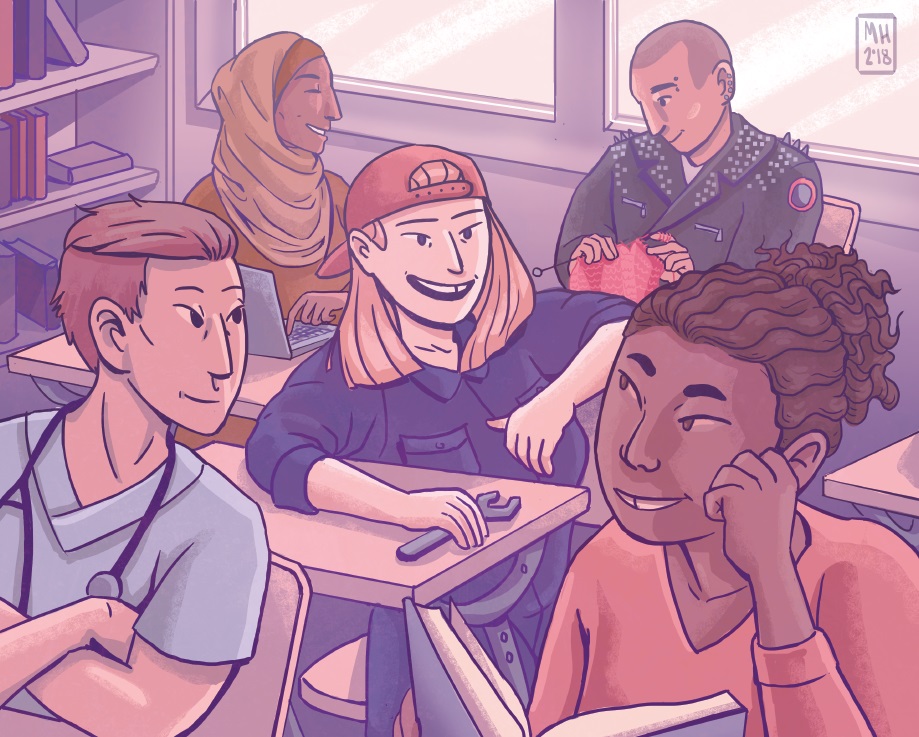 Press release, Finnish Youth Research Society & State Youth Council, 20.3.2018
Youth Barometer 2017: Young people have a positive attitude towards learning and education
Young Finns have a positive attitude towards learning and education. The 2017 Youth Barometer examined young people's values and attitudes regarding skills and education. Out of all the young people who took part in the study, 94 per cent believe that education will significantly improve their employment opportunities. Young people believe that general knowledge is important, and the majority say that they enjoy the subject they are studying.
Inequality creates obstacles on the educational path
Economic obstacles may reduce a young person's ability to decide which field or at which institution they want to study. The results of the Youth Barometer on the impact that economic inequality has on the educational choices of young people makes for tough reading. Economic reasons impact the educational decisions that young people make and make them delay graduation, among other things. 17 per cent of the respondents say that they have eliminated educational options because of lack of funds. Economic reasons have made it particularly difficult for young people with no degree or study place to get an education; nearly half of them have been forced to make cuts to their studies or give them up altogether because of the lack of money.
Economic inequality is often also visible in young people's free time. 40 per cent of respondents have not taken up a hobby and a third have been forced to give up a hobby due to insufficient funds. This lack of money also has a negative impact on the young people's relationships; one in four respondents have not been able to see their friends because they do not have enough money. These statistics have increased considerably since 2015.
The parents' level of education also has an impact on the children's satisfaction with school, attainment of higher degrees, and social trust. Parents' high level of education increase the experienced learning both in and out of school.
Young people need guidance
17 per cent of the young people say that they have interrupted a degree programme at some point. The most important reason for this is choosing the wrong field. Low school satisfaction and the strain caused by matters outside school also have an impact on the decision to interrupt studies.
The majority of young people do however continue their studies, and interruptions to studies can be seen as part of the process of finding the right educational path. An important observation is that boys who have dropped out of education feel that they have not been given a great deal of information about study options, particularly by the authorities and professionals.
Those who have left or interrupted their studies could be supported in returning to their studies by introducing the obligation for primary and secondary schools to offer guidance after the students have left school, which would give those who have left or interrupted their studies access to study guidance from their educational establishment for a further year.
Learning is not limited to school – extra-curricular learning is also important
This was the first time that the Youth Barometer examined young people's views on learning outside school, such as in their free time, hobbies and working life. Even though school plays an important role in strengthening study skills in particular, young people often feel that they have also learned many skills outside of school. Influencing and economic skills are not acquired easily either inside or outside school, whereas general knowledge and social interaction are learned both inside and outside school. There has, however, been a reduction in young people's experiences of learning many important skills in school in the past ten years.
It is noteworthy that learning which takes place outside school is not equal: those who do not have a study place or a secondary degree do not take part in guided study in their free time, such as education offered by organisations or institutes. Learning is directed towards the children of well-educated parents both inside and outside school.
Life satisfaction and social trust
The Youth Barometer has been examining young people's life satisfaction for 20 years. Life satisfaction has been fairly stable, but it has fallen somewhat, particularly among girls. Young people's social trust is also on the decline, and the lowest levels are found among unemployed young people.
A positive aspect is that the sense of belonging in Finnish society has increased. Education, good health and relationships as well as a sustainable economic situation increase young people's experiences of wellbeing.
More information about regional equality
The annual Youth Barometer has been measuring the values and attitudes of young people aged 15 to 29 living in Finland since 1994. The Youth Barometer is carried out annually in cooperation by the State Youth Council and the Finnish Youth Research Society. The Youth Barometer addresses topical issues with varying themes from the point of view of young people, but some survey questions are repeated regularly. The questions which remain the same every year enable the researchers to follow up on changes and notice trends over time. The themes for the 2017 barometer were skills and education.
The regional perspective is central in regards to educational equality. More information on this topic will be gained from a study on educational paths and attitudes of young people living in remote areas, which will be completed in the autumn of 2018. The material, which is based on an additional sample of the Youth Barometer, was collected simultaneously with the current study.
Publication data
Elina Pekkarinen & Sami Myllyniemi (eds.) Roads to learning. Youth Barometer 2017
ISBN (printed version) 978-952-7175-55-2, ISBN (PDF) 978-952-7175-56-9. Publications (Finnish Youth Research Society) ISSN 1799-9219, No 200, Kenttä, Online publications (Finnish Youth Research Society) ISSN 1799-9227, No 129, Publications by the State Youth Council ISSN 1455-268X (print), No 58, Publications by the State Youth Council ISSN 2341-5568 (online publication), No 58. 212 p., print, EUR 28.
Orders can be placed through the Finnish Youth Research Society's online shop: www.nuorisotutkimusseura.fi/julkaisut/verkkokauppa.
The Youth Barometer can be read free of charge here: https://tietoanuorista.fi/nuorisobarometri.
Further information
Researcher Sami Myllyniemi
Finnish Youth Research Society
tel. 040 715 1721
sami.myllyniemi@nuorisotutkimus.fi
Research Manager Elina Pekkarinen
Finnish Youth Research Society
tel. 040 846 8624
elina.pekkarinen@nuorisotutkimus.fi
Senior Researcher Tomi Kiilakoski
Finnish Youth Research Society
tel. 040 504 6432
tomi.kiilakoski@nuorisotutkimus.fi
Secretary General Herttaliisa Tuure
State Youth Council
tel. 02 953 30356
herttaliisa.tuure@minedu.fi