---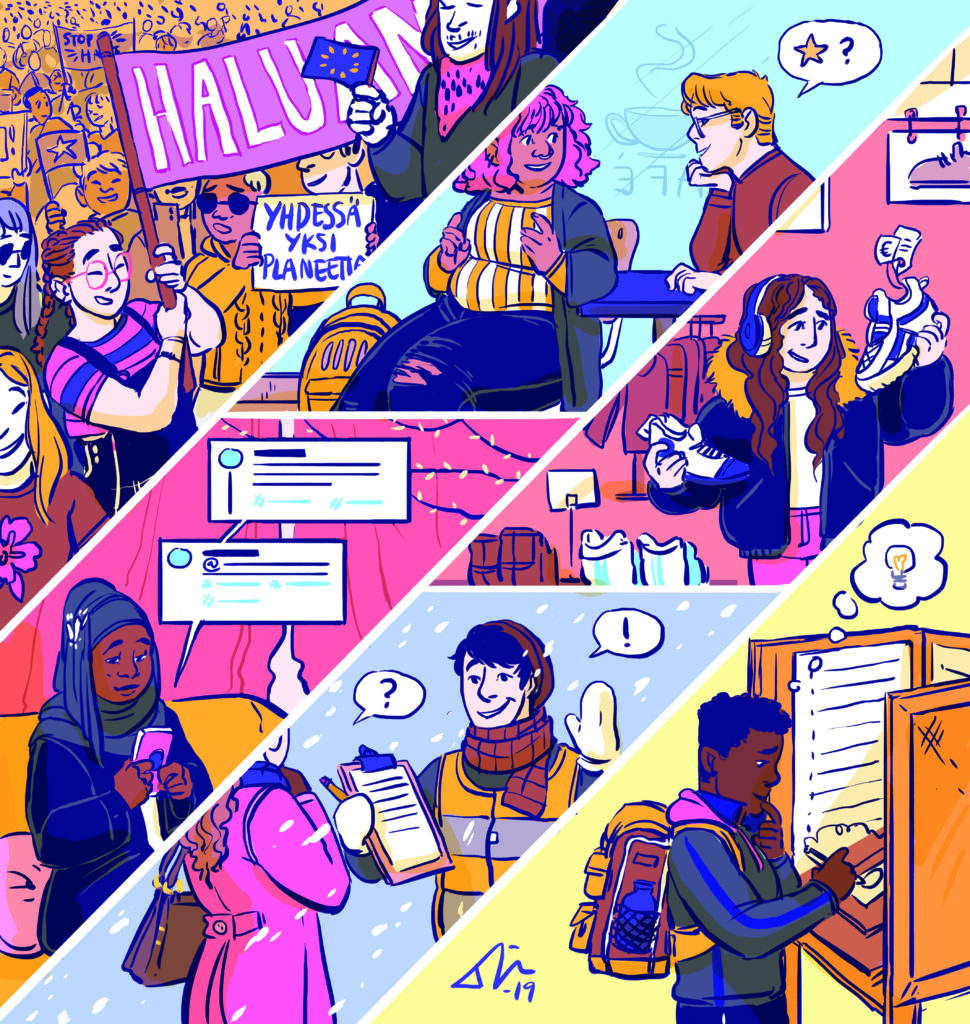 Press Release, State Youth Council and Finnish Youth Research Society, 12.3.2019
PRESS RELEASE: Never before have young people been this interested in politics
Young people in Finland feel positive about democracy and value it. The 2018 Youth Barometer surveyed young people's views on what kind of opportunities and ways they have to influence society. The Youth Barometer shows that interest in politics has increased among young people: in the 2018 survey, more respondents said they were at least moderately interested in politics (61%) and fewer respondents were not interested at all in politics (8%) than ever before during the 20-year monitoring period. The number of respondents who were involved in politics also increased, particularly among those under the age of 20. "We have been worried about broken democracy. However, in the light of this Youth Barometer, at least we won't have to be concerned about young people's confidence in making an impact and their willingness to act to make change happen," said Youth Barometer's editor Elina Pekkarinen.
Confidence in non-parliamentary impact is growing
The majority of young people believes in the traditional forms of influence. They felt the most effective ways to have influence are to stand for election, vote and actively participate in an organisation or youth council. Notably, 57 per cent of respondents now think purchase decisions are an effective form of influence, compared to less than a third of respondents in 2013. The share of respondents who consider political debate in social media or online forums to be an effective form of influence also grew.
Young people are more active in society but their political participation varies depending on their level of education
Young people use a range of methods to make an impact. Among the Youth Barometer respondents, the most common forms of influence were voting (79%), purchase decisions (77%) and political debate (37%). Confidence in the power of purchase decisions has also increased: the share of respondents who used purchase decisions to make a stand has increased considerably from 2013 when only 60 per cent of respondents had sometimes used purchased decisions. Correspondingly, other non-parliamentary methods, such as participating in demonstrations or in political debates on social media, have also become more popular, especially among the young people interested in politics. Among these young people, the traditional forms of influence are also popular.
"The Youth Barometer does not support the notion that there is a 'buffet table' from which young people select the form of influence that suits them. Instead, there is a group of young people that use the forms of influence more than others," said researcher Tomi Kiilakoski from the Finnish Youth Research Network.
Young people's political participation varies according to their level of education. Those with higher education are more active voters and members of organisations, while those without any education use their influence more than others by contributing to social media debates and not voting.
A generation that thinks positively about Europe, international mobility and learning conflict resolution skills
According to the Youth Barometer, two out of three young people think that the membership of the European Union has benefited Finland. Young people's trust in the European Union had also increased considerably. This is a good indication of young people's positive attitudes towards Europe. Similarly, young people feel they have a lot in common with the other European youngsters. However, while the survey results are largely positive about the future of Europe, one in three young people say European integration has already progressed too far.
The Youth Barometer results show that the majority of young people are more tolerant and think positively about immigration. One in three young Finns would like more foreign nationals to move to Finland. Additionally, 96 per cent of respondents consider important that people can travel freely and find out about other cultures. At the same time, young people are worried about the challenges facing global mobility. All in all, the attitudes towards immigration and migrants revealed in the survey can be seen as moderate or positive.
"It is also positive how up to 80 per cent of the young respondents thought peace was a matter of will and nearly 90 per cent of them wanted to learn more about conflict resolution skills. So it looks like young people consider conflict resolution to be a key area that the grown-up society should prepare them for," said Kiilakoski.
A dramatic increase in experiences of uncertainty and insecurity, yet more people feel optimistic
Many young people have feelings of uncertainty about climate change, global politics and international terrorism. Uncertainty about such global issues has dramatically increased over the past decade; for example, the number of people who have many feelings of insecurity about climate change has doubled in ten years. It may be therefore surprising that, on average, people feel more optimistic about the future of the world.
"Uncertainty or concerns may not always lead to pessimism, which is a positive result not only for individuals, but also for those involved in making an impact. Because young people who worry about the state of the world, like the international political situation or climate change, are also more likely to be active contributors in society," said researcher Sami Myllyniemi from the Finnish Youth Research Network.
In Finland, young people expressed fairly strong feelings of uncertainty about young people's exclusion (60%), racist violence (46%), future of welfare services (45%) and the growing inequality in Finland (41%).
The number of young people who feel very positive about their own future has increased from 2016, and similarly young people feel generally more positive about the future of the world.
The annual Youth Barometer has been measuring the values and attitudes of young people aged 15 to 29 living in Finland since 1994.
---
The 2018 Youth Barometer is based on 1,901 telephone interviews. The Youth Barometer is carried out each year jointly by the State Youth Council and the Finnish Youth Research Society. The Youth Barometer addresses issues with varying themes that are topical from young people's perspective, but some survey questions are repeated regularly. The questions which remain the same every year enable the researchers to follow up on changes and observe trends over time. The themes for the 2017 Barometer were power and influence.